The Four Ever Smile™
Veteran Program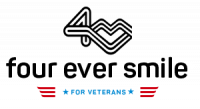 The Four Ever Smile™
Veteran Program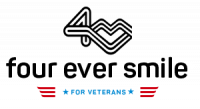 If You Are a Veteran in Critical Dental Need, Please Contact Us

Giving Back to Our Heroes in Need
The Four Ever Smile™ Veteran Program is designed to give smiles back to our heroes who deserve them most. They fought for our freedom, and to thank them for their service, we're providing the Four Ever Smile™ to four veterans each year, free of charge.
Why did I Become a Dentist?
To Solve Problems and Help People.
"When it comes to my community, there is no greater honor than giving back to our military. While I may not have the power to issue 100% dental coverage and benefits to all United States veterans, I do have the ability to help one at a time." – Dr. Keith Vibert
Did You Know?
United States Veterans Do Not Have Dental Coverage Unless They Are 100% Disabled
While our country has the best military in the world, we are ranked #9 in oral care (ranking based on DMFT index). Not only do bad teeth cause numerous health issues, but the problem has crippling effects on self-esteem, employment potential, and daily comfort.
The revolutionary Four Ever Smile™ procedure takes about four hours, but the results last a lifetime. Our professional, patient-centered dentists have work with over 15,000 patients—and to those FES recipients that have served in the armed forces—we salute you
Four Ever Smile™ Veteran Benefits
Boosts confidence and self-esteem
Strengthens jaw muscles
More food options (welcome favorites back)
The brightest smile in family photos
Decreases health risks like heart attack and sleep apnea
Permanent, durable, and feels like the real thing
Serving Those Who Served; One Smile at a Time

Our mission is to increase the quality of life through confident smiles. With our new state-of-the-art facility, we're able to change more lives than ever with the Four Ever Smile™ program. We've seen the life-changing impact this advanced procedure has on patients young and old. We can now offer the solution to more people than ever.
Meet Alfred
"Since I've had my Four Ever Smile™ in, it has boosted my self-esteem. Everyone should have that opportunity, especially veterans."
-Alfred, U.S. Marine & FES Veteran 2020
Meet Bob
"I didn't have any confidence anymore. I would always put my hand over my mouth. And now with my Four Ever Smile™ I don't have to do any of that. That's all because of Dr. Vibert and his team."
– Robert, U.S. Army & FES Veteran 2020
If you are a veteran suffering financial hardship and are in need of a new smile, you can apply to our program every year from November 1st till November 30th. Check back at that time and an application will be available. We choose 4 candidates per year to receive a full Four Ever Smile™ procedure at no cost.